Welcome to the Frankford Skating Club
---
When you're skating in Frankford, you're skating at home!
---
Our annual bottle drive is coming up fast so start saving those bottles and cans and help support your local skating club! See the information flyer below for all the details. Please share this information with anyone who may be able to support the club and skaters in this fantastic fundraising opportunity!!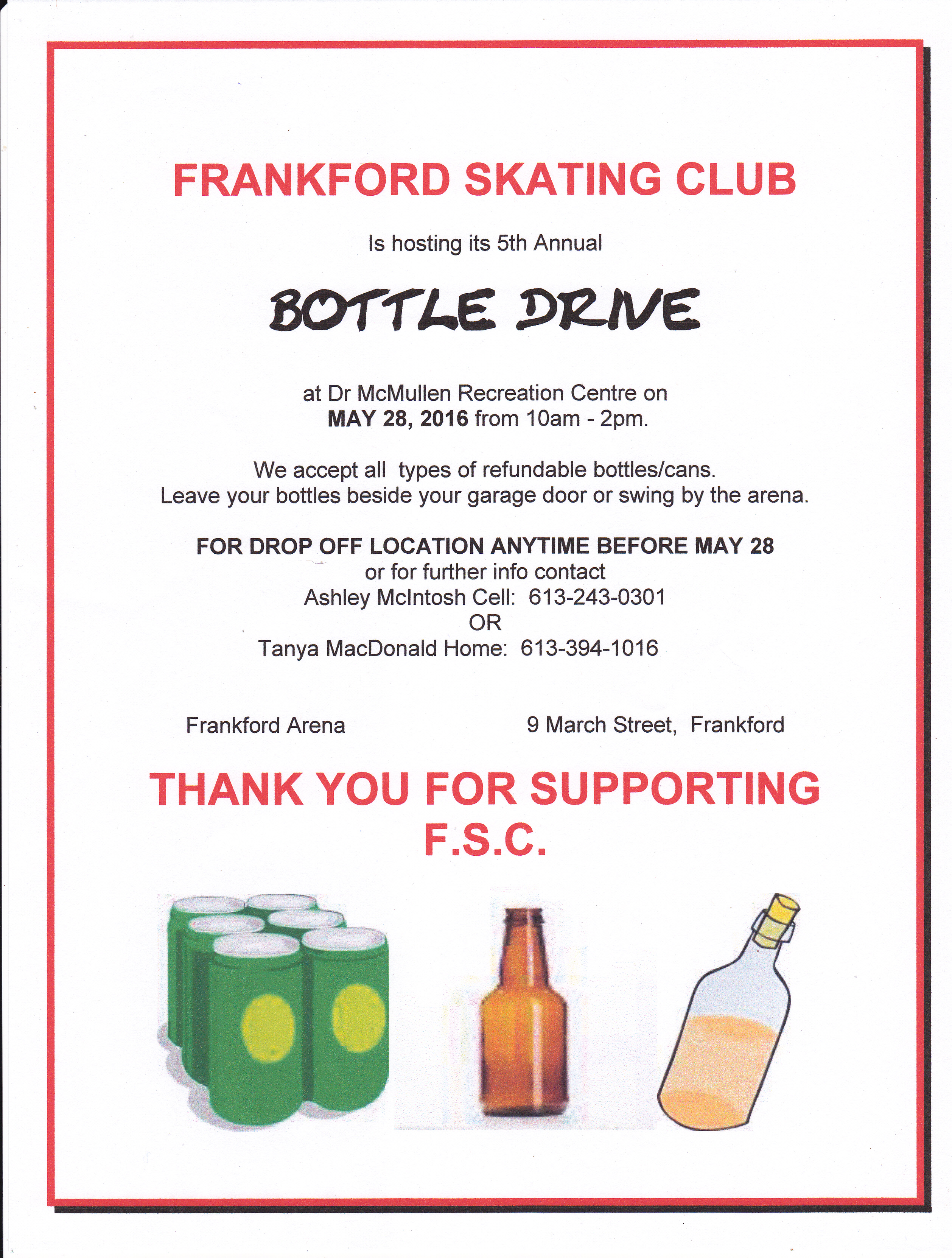 The AGM has been postponed to May 2nd, 2016 at the Frankford Arena 6:30pm.
NEWS!!!
On Broadway Carnival - April 2, 2016 - Show starts at 1:00 pm sharp!
Come out and watch all that has been achieved this year at the Frankford Skating Club. Admission by donation. Programs and Flowers can be purchased at the door.
Read the Latest Newsletter - here

---
Online registration is now available!
The second session of the CanSkate Program begins December 8th, 2016 in Frankford. We are still accepting registrations for all programs. Registration may be done in person at the Frankford Arena on the following days:
Tuesday from 5:00-8:00 pm
Thursday from 6:00-8:00 pm
Saturday from 9:00am-1:00 pm
We are also still accepting registrations for our StarSkate Programs!!!
Important Information
In the Registration tab of this site, you can find a brief description of club programs offered for the 2015-2016 season. You will also see the per day rates for each program. A multi-program discount is applied in your shopping cart as you select additional programs on a per skater basis. A family discount is also applied if you are registering 3 or more skaters for any club programs at the same time.
A more detailed description of our programs can be found in the Programs tab.
If you are registering online and are having difficulty, you can check out the Help tab where we have created instructions on how to use our new online registration system. If you are still experiencing difficulty, please don't hesitate to contact us, we will be happy to assist you.
Upon completion of your registration you will receive an invoice by email. If you do not receive anything, make sure to check your junk mail folder and add us as a safe sender so will receive all your information in a timely manner.
This site is new for the Frankford Skating Club, so many of the pages are still under construction or just contain basic information at this time. Please make sure to check out the site regularly for new information, to stay up to date with events at the club and use your family calendar to view schedule updates.